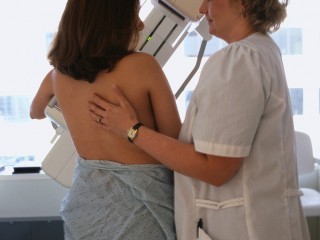 Ionizing Radiation
The first problem with mammograms is that they use ionizing radiation at a relatively high dose, which in and of itself can contribute to the development of breast cancer. Mammograms expose your body to radiation that can be 1,000 times greater than that from a chest x-ray, which we know poses a cancer risk.
Mammography also compresses your breasts tightly, which could lead to a dangerous spread of cancerous cells, should they exist.
Dr. Charles B. Simone, a former clinical associate in immunology and pharmacology at the National Cancer Institute, said: "Mammograms increase the risk for developing breast cancer and raise the risk of spreading or metastasizing an existing growth."
Dr. Samuel Epstein, one of the top cancer experts, similarly stated:  "The premenopausal breast is highly sensitive to radiation, each 1 rad exposure increasing breast cancer risk by about 1 percent, with a cumulative 10 percent increased risk for each breast over a decade's screening."
False Positives Are Alarmingly Common
The second glaring problem with mammography is its unacceptably high rate of false positives.  If a mammogram detects an abnormal spot in a woman's breast, the next step is typically a biopsy. This involves taking a small amount of tissue from the breast, which is then looked at by a pathologist under a microscope to determine if cancer is present.
The problem is that early stage cancer like ductal carcinoma in situ, or D.C.I.S., can be very hard to diagnose, and pathologists have a wide range of experience and expertise. There are no diagnostic standards for D.C.I.S., and there are no requirements that the pathologists doing the readings have specialized expertise.
Dr. Shahla Masood, the head of pathology at the University of Florida College of Medicine in Jacksonville, told the New York Times:  "There are studies that show that diagnosing these borderline breast lesions occasionally comes down to the flip of a coin."
Of course, upon receiving a breast cancer diagnosis, most women are afraid and even frantic to do whatever it takes to fight and remove the cancer. In the conventional medical arena, typically this means full or partial mastectomy, drugs and radiation.
Imagine going through surgery, having one or both of your breasts removed along with receiving debilitating radiation treatments and toxic drugs, only to later be told that you never had cancer.
This scenario happens more often than you might think.